Dilwoar Hussain has created a fantastic crowd-sourced tool which you can use to find a prayer/multi-faith/quiet room in government or civil service buildings. If you need a quiet space to pray, meditate or just zone out, use this tool to find the place:
https://xgov-rooms.netlify.com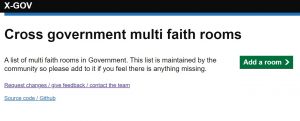 It also specifies whether there is a wudhu basin to wash for salah. Please add your department's prayer room to the list too.