What is a QR code?
QR codes are two dimensional barcodes (see image above) that are designed to be read by smartphones. The information encoded within a QR code could be a URL, email, text message, calendar item etc. The QR code can then be read by an app on a smartphone, such as this app for an iPhone. As soon as the QR code is read by the app, it automatically generates the encoded information, whether that is directing to a URL or sending an email. Further technical details about QR codes can be found here.
How does a QR code work?
The video below shows an example of someone using a QR code:
How do I create a QR code?
Creating a QR code is free and there are multiple sites on the web that generate QR codes. The simplest website I've found is QRStuff.com, which has 14 different data types (including complex ones such as vCalendar for events, Paypal Buy Now Link etc). It also has multiple output styles which means you can place your QR code on various items, such as posters, business cards, mugs, t-shirts etc.
QR code in Practice
QR codes have been used on items ranging from business cards to posters advertising events (watch this video for examples). With over 10 different data types that can be encoded into a QR code, the potential is huge. The largest barrier to the use of a QR code is the lack of awareness of what a QR code is (a survey by Lab42 found that 43% of people had no idea what a QR code was) and the requirement of a smartphone (26% said they didn't have a smartphone). However, according to a recent Ofcom report, there has been a huge increase in smartphone usage, with around a quarter (27%) of UK adults now using smartphones. Furthermore, according to new research from YouGov, 40% of the population knew what a QR code is and 12% had snapped one with their mobile (Source).
Use of QR codes in Healthcare
QR codes can be used in many ways in Healthcare. Examples of current use can be found here and a list of potential uses can be found here.
Advantages of using QR codes
QR codes are free and easy to use for the end user. The additional benefit of a QR code is that it is trackable. Each QR code can be tracked and information can be collected as to how many people scanned the QR code and where they scanned it from. There are companies that provide this service, such as ScanLife and QReateandTrack and free services such as Snap VU.
Tracking popularity and meaningful use of videos/posters (in healthcare) using QR codes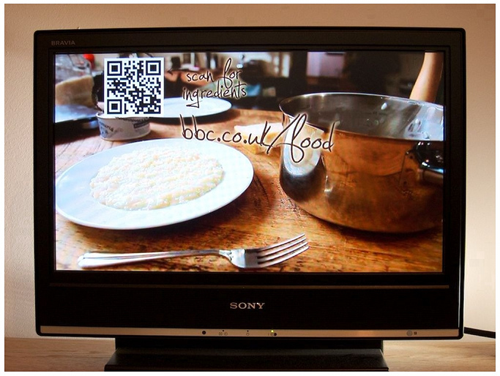 BBC One TV Program The Good Cook went interactive by introducing QR codes that linked directly to the recipe on the BBC website. This was extremely convenient as it meant I had access directly to the recipe, instead of having to search on Google/BBC for the specific recipe. In a similar manner, QR codes could be placed in healthcare videos, posters, leaflets etc that link to websites for further information, for example.
The major benefit of using a QR code is that it can track how many people have accessed your website through a specific QR code, so immediately you can see whether the QR code is popular or not, and more importantly whether people are actually interested in your video/poster and are following up from the information you have provided, whether in digital or non digital form . Whereas if this was a URL link on a poster, you would never know which poster the person found your URL link from, or whether even if it was from a poster – it could have been from a book, another website or word of mouth.
Because smartphones are not used by almost 3/4 of the UK population, normal URL links should be provided too where appropriate (the BBC programme is a good example where placing a URL link is not appropriate – as there isn't enough time whilst watching a programme to jot the URL down).
Further resources – Infographics on QR Codes:
Infographic: How People Use QR codes
Infographic: Who's Really Scanning All Those QR Codes?